Infection Control and Sterilization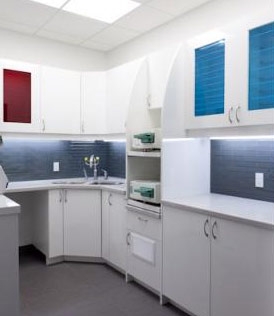 We pride ourselves in exceeding current standards in infection control: for example we introduced a clean water system using our own water distiller a decade prior to the Walkerton water crisis and long before it was recommended in the current guidelines. We have been biologically spore testing our sterilization system from the day we opened our first clinic over 18 yrs ago and also long before it was mandated. We use disposables as much as possible to ensure your safety but are still sensitive to our global environment. We follow an orderly protocol to ensure consistent, quality cleaning and sterilization. We have installed hands free sinks and soap dispensers in all of our bathrooms and operatories to reduce cross contamination. Finally, we have installed over 20 hand sanitizer stations throughout the office to encourage hand sanitization including a unique automated door knob sanitizer for the washroom handle.
For your comfort we have designed a spacious operatory for those procedures which required longer appointments. In our surgical suite we have installed a Surgically Clean Air TM system which purifies the air of bacteria, viruses and VOC's down to 0.01 microns. We use state of the art dust cabinets when adjusting dental appliances to reduce aerosols. While enjoying your massaging chair you can enjoy Cable T.V, listen to our music or use our iPod docking station to listen to your own music with our wireless headphones.
Protecting Our Environment
Our office is striving to be a paperless office! To help our environment and benefit the patient we have installed some of the newest technology in our office. Digital charting is used by our office to ensure accurate and organized notes. As well, all the information about your history including allergies and previous dental work are at a click of a button. Finally, we have switched to digital x-rays. These machines use sensors instead of the traditional photographic films thus eliminating the use of toxic chemicals for film developing.
Digital X-Rays and Intra-Oral Cameras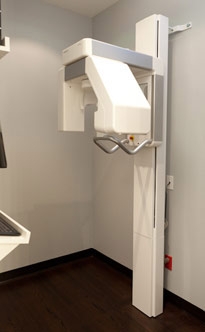 We offer Digital Panoramic Radiographs and Digital Radiographs for a quicker and safer diagnosis with less radiation, more information, and better diagnosing. For your convenience we have installed computers in all our ops to help us schedule your appointments in a timely fashion and to show you your digital x-rays and intra–oral photos. As well we can perform our note taking digitally allowing us to reduce our use of paper and protecting the environment.
In our rooms we have installed intra- oral cameras that are used during your appointment so that you can see exactly what your oral care professional sees. This helps to educate you as a patient and involves you as much as possible in your oral care.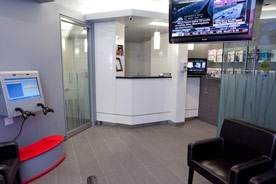 Our office has many features to make your visit more comfortable. We have equipped our reception area with comfortable seating, cable T.V. and a gaming system. We have installed wall and ceiling mounted TV's in all our ops to entertain you while you have your treatment. Finally, and unique to our office is a private viewing area allowing families to monitor each other in a fun, safe and secluded environment during their appointment. Our private viewing room is equipped with a game system, a toy box, cable T.V., and comfortable seating.